MARKET DATA:
California home sales increase as prices fall
AFFORDABLE HOUSING:
Transforming foreclosed houses into affordable ones
FINANCE:
Mortgage rates remain at 3.87 percent
SENIOR HOUSING:
Assisted living prices soar in 2011
Foreclosure rentals to create 1.8 million US jobs
Bloomberg

As many as 1.8 million permanent and temporary real estate-related jobs will be created as investors convert foreclosed homes to rentals, according to a report by analysts at Morgan Stanley. The employment growth will come in the form of 1 million temporary positions to rehabilitate 4 million homes and 800,000 permanent jobs to manage and maintain the properties as rentals, according to the report. "Best of all, these jobs could be created by private capital without the use of taxpayer dollars and generally cannot be outsourced," the analysts said. Construction and real estate-related employment has fallen by 2.73 million jobs, or 23 percent, over the past five years because of the housing-market collapse, according to the report. Last year, 302,000 new homes sold, the fewest in Commerce Department records dating to 1963.
METROINTELLIGENCE ECONOMIC UPDATE
By Patrick S. Duffy
Leading Indicator Index (LEI) rises for fourth consecutive month
The Conference Board Leading Economic Index® (LEI) for the U.S. increased 0.4 percent in January to 94.9 (2004 = 100), following a 0.5 percent increase in December and a 0.3 percent increase in November. Ataman Ozyildirim, economist at The Conference Board said, "This fourth consecutive gain in the LEI reflected fairly widespread strength among its components, pointing to somewhat more positive economic conditions in early 2012. The LEI's increase in January was led not only by improving financial and credit indicators, but also rising average workweek in manufacturing. These both offset consumers' outlook about the economy, which remained pessimistic, though slightly less so. Meanwhile, the CEI rose again in January as employment, income, and sales data all point to improving current economic conditions despite a lack of contribution from industrial production."
CPI rises by 0.2 percent in January and by 2.9 percent over the past year
The Consumer Price Index for All Urban Consumers (CPI-U) increased 0.2 percent in January on a seasonally-adjusted basis, the U.S. Bureau of Labor Statistics reported. Over the last 12 months, the all items index increased 2.9 percent before seasonal adjustment. The index for all items less food and energy has risen 2.3 percent, its largest 12-month increase since September 2008.

The MetroIntelligence Economic Update
is provided to BuilderBytes by
MetroIntelligence Real Estate & Economic Advisors
.
Increased optimism at NAHB's 2012 International Builders' Show
NAHB

More than 51,000 builders, remodelers and other members of the home building industry crowded the aisles of the National Association of Home Builders' International Builders' Show (IBS), which ended its four-day run at the Orange County Convention Center in Orlando, Fla. Signs of optimism for the industry's recovery could be felt throughout the show, as exhibitors noted increased booth traffic and solid sales leads. The 2012 IBS featured exhibits from more than 900 suppliers representing all facets of the home building industry. Builders and remodelers also attended more than 165 educational sessions on design trends, green building, marketing, remodeling and other building industry topics. Nearly 2,500 people attended a special address by Federal Reserve Chairman Ben Bernanke.
California home sales increase as prices fall
Los Angeles Times

Home sales were up slightly in January across California, and the statewide median price fell, as investors flooded Southern California and the share of distressed home sales jumped in the Bay Area. The housing market is one of the few sectors of the economy that is still suffering. A report by San Diego research firm DataQuick indicated that housing continued to limp along last month in the Golden State. The state's median home price fell to $236,000, down 1.3 percent from January 2011. The median has fallen for 16 consecutive months on a year-over-year basis. Foreclosures, tight mortgage credit and high unemployment in the state remain significant impediments to a housing recovery.
Lennar presents multi-generational homes in Sacramento
Business Wire

As seen in Bloomberg, USA Today, The New York Times, The Wall Street Journal, Los Angeles Times, The Washington Post and many more, Lennar is now ready to bring this revolutionary new concept to Sacramento on Saturday, Feb. 25, 2012. One of the newest trends in the housing industry is now coming to Lennar's Shenandoah community at Blackstone in El Dorado Hills – the comeback of multi-generational living. Lennar has already seen tremendous interest from the public since they introduced this concept in other areas. Extended family who lives together has made a major resurgence to American living; this new trend of multi-generational living has encouraged Lennar to design a home that allows extended family to live all together in one home – except with separate living spaces.
Brownstones at Brambleton wins national awards
PRNewswire

Miller & Smith, a home builder and real estate development company, announced that the Brownstones at Brambleton located in Ashburn, Va., is the recipient of two prestigious national awards. The Brownstones at Brambleton received a Silver Award in the category of "Architectural Design – Attached Home Plan" as part of The Nationals™ Awards Ceremony presented by the National Sales and Marketing Council, a council of the National Association of Home Builders. The Nationals™ is the largest competition of its kind and pays tribute to superior sales and marketing achievements by individual professionals, home builders and associates, and sales and marketing councils. Additionally, the community received a Platinum Award in the category of "Interior Design: Kitchen" as part of the 2011 Best in American Living Awards (BALA) by the NAHB.
Households re-think the meaning of home
Builder & Developer

At the 2011 ULI fall meeting in Los Angeles, a new publication entitled, "What's Next: Real Estate in the New Economy," summarizes what builders and developers can expect in the years ahead through 2020. Due to a combination of increasing globalization, changing demographics and evolving technologies, the correct mix of strategic analysis and advice has never been more important. In the short term, one thing is becoming clear: The smorgasbord of low-hanging fruit, which largely powered the home building industry's success since the end of World War II, is now gone. But that's not necessarily a bad thing. In its place is emerging a collection of specific opportunities targeting value-conscious Baby Boomers, hyper-connected Gen-Y members, immigrants often in need of multi-generational housing and lifelong renters.
Multifamily affordable housing interest cultivates
Community Impact

After more than two years since the last proposed affordable housing complex lost funding, the Texas Housing Foundation, a regional public housing authority, is moving forward with plans to build an income-restricted multifamily residential complex in Georgetown. In March, the planning and zoning commission and City Council are expected to consider rezoning the Gateway Northwest Apartments' site. "From the citizenry standpoint, it will be 180 new units of quality, affordable housing to meet the ever-growing demand for quality housing within a very affluent area—and I don't mean affluent in the number of dollars, but affluent in a sense of growth potential," Texas Housing Foundation CEO Mark Mayfield said.
Transforming foreclosed houses into affordable ones
NJSpotlight

Chaos or crisis: Either word (or both) will do to when describing New Jersey's affordable housing situation and its residential real estate market. Lawmakers launched a new effort to address both problems, providing low-cost housing and dealing with the flood of foreclosures at the same time. The New Jersey Residential Foreclosure Transformation Act, S1566/A2168, seeks to create a new state agency that would buy up foreclosed properties and turn some of them into affordable units. "Not only will it provide more affordable housing, but it will reduce the number of boarded-up houses that drag down property values, build up neighborhoods, and boost the economy," said state Sen. Raymond Lesniak, cosponsor of the bill in the Senate.
Obama's re-election chances rise with the improvement of economy
The Washington Post

The economy is looking better to the American public and with it President Barack Obama's re-election prospects. Claims for jobless benefits unexpectedly dropped to the lowest level in almost four years, providing fresh evidence the job market is on the mend, and reports released on housing and manufacturing also beat forecasters' expectations. The Bloomberg Consumer Comfort Index climbed for a fourth straight week to reach the highest level in a year. Sentiment is rising even among those who have yet to benefit from the recovery, as payrolls expand and the unemployment rate drops. Jobless Americans are the most optimistic since April 2008. Economic confidence among independents, a voter group targeted by both parties, surged to a four-year high earlier this month, the Bloomberg Consumer Comfort Index showed.
Mortgage rates remain at 3.87 percent
Bloomberg

Rates for 30-year U.S. mortgages held at the lowest level on record as fewer Americans sought loans to buy homes. The average rate for a 30-year fixed loan was unchanged at 3.87 percent, the lowest in records dating to 1971, Freddie Mac said. The average 15-year rate remained at 3.16 percent. Low borrowing costs have done little to spark consumer interest in buying houses. Financing applications for purchases have fallen in three of the past four weeks, according to data from the Washington-based Mortgage Bankers Association. The group's purchase index declined 8.4 percent in the period ended Feb. 10, while it's refinancing gauge rose 0.8 percent.
Brad Pitt's group helped by zero-energy homes
Metro Mix

Since actor Brad Pitt founded the non-profit Make It Right in 2007 to build low-cost, sustainable homes for New Orleans' Hurricane Katrina victims, green building has exploded nationwide. Two builders are announcing plans to offer affordable homes designed to produce as much energy as they use -- one of which is a stylish modern prefab to benefit Pitt's charity. California-based LivingHomes, a developer of high-end, ultra-green, factory-built homes, is debuting its lowest-cost model ever -- the C6 -- that will be available in most states. The 1,232 square-foot, $179,000 prefab, which is about half the size of the average new U.S. home, has three bedrooms and two baths as well as a courtyard that blends indoor and outdoor living.
NVHomes announced opening of single-family estate homes
PRNewswire

NVR, Inc., one of the nation's largest home building and mortgage banking companies, announced the grand opening of Riverwood at Ferry Point, a new community of single-family estate homes in Alexandria, Va., built by NVR's luxury division, NVHomes. These luxury single-family homes are priced from $1.2 million and offer beautiful 1/2 acre home sites. Riverwood at Ferry Point is NVHomes' only community located on the Potomac River. Ferry Point's incomparable location boasts breathtaking views and is surrounded by several parks and attractions, including the Mount Vernon Estate and Gardens. NVHomes at Riverwood at Ferry Point are fully ENERGY STAR-qualified, yielding monthly utility savings up to 30 percent more than standard homes, according to the EPA.
Washington community creates its own class
Builder & Developer

Conceived in 2006, zHome and its project team were contrived to push the boundaries with this community from the beginning. Located in Issaquah, Wash., these Net-Zero energy townhomes began breaking barriers with its HERS score of zero and claiming the title as the first multifamily, Net-Zero energy project in the country, according to zHome's Project Manager, Brad Liljequist. "We set out to redefine the paradigm of what production housing could look like," Liljequist stated. As the product of an extensive partnership between different groups, zHome branches out to leaders in the green building industry, local utilities, King County, the Built Green program, Port Blakely Communities and the Washington State University energy program, as the major players in its affiliation.
Senior housing project under construction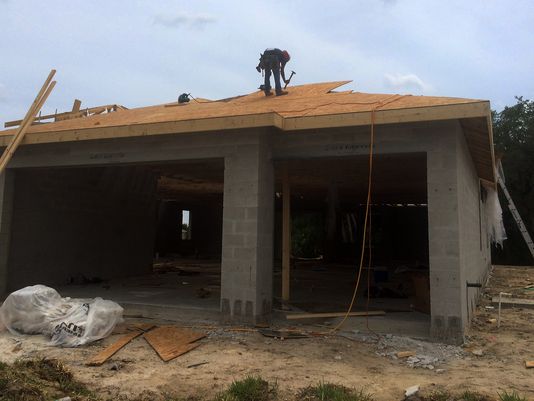 Wisconsin State Journal

Construction is under way on a $13.3 million senior housing community to open in fall or winter 2013 on five acres of vacant land in downtown Sun Prairie. The 185,000-square-foot community, to be known as Lighthouse of Sun Prairie, will have 152 apartments. It will offer three levels of service — 60 for independent living, 48 for assisted living and 44 memory-care units. Construction started in late December, with Minnesota-based Anderson-KM Builders as general contractor. It will be the sixth Wisconsin location for owner/operator New Perspective Senior Living, based in Eden Prairie, Minn. The company has senior housing in Brookfield, Brown Deer, Mequon, Superior and West Bend, plus five sites in Minnesota and one each in Iowa and Illinois.
Fountain Residential Partners to develop luxury off-campus student housing
PRNewswire

Fountain Residential Partners, in association with Crosswind Development Partners, is expected to break ground this spring on a 139-unit, 427-bed, student housing community adjacent to The University of North Texas in Denton. The project, 33 North, is expected to deliver for Fall 2013. Fountain has quietly become one of the most active multifamily developers in the Dallas-Fort Worth area, with three projects to be constructed in 2011 and 2012. The Vue on University Drive apartments at Texas Christian University, being constructed by Centerpoint Builders, is nearing 100 percent leased for its summer of 2012 grand opening. A second site is under contract one block from the TCU campus for a similar loft-style luxury development to start construction later this year for occupancy in summer of 2013.
Loan applicants' data compromised
Bloomberg

D.R. Horton, Inc., the largest U.S. home builder by volume, said it's notifying mortgage applicants that their personal data may have been compromised by a software security infringement. The breach was caused by "unknown external sources," the Fort Worth, Texas-based company said. It was discovered on Feb. 10 at the builder's Internet Loan Prequalification System, according to a message being sent to customers, a copy of which was obtained by Bloomberg News. "DHI Mortgage has already contacted law enforcement and implemented revised online security measures as we continue to investigate the matter," D.R. Horton said in the message. "As a precautionary measure, we are sending you this notice so that you can take steps to prevent or limit identity theft."
Assisted living prices soar in 2011
Market Watch

Despite the sputtering economy and an uncertain investment climate, the average price paid per unit for assisted living communities soared by more than 45 percent over 2010's average to $156,900 per unit, according to a new report on the seniors housing and care M&A market to be published by Irving Levin Associates, Inc. The average price paid in 2011 was extremely close to the record set in 2007 at the previous market peak. The seniors housing market was so resilient during the Great Recession that investors were willing to pay higher prices for the higher quality assisted living communities that came on the market in the past year. These properties are typically in strong demographic areas, have occupancy levels of 95 percent or higher and monthly rates at the high end of the market.
Woodridge to choose developer by May
Patch

The developer of Woodridge's new senior housing developer should be selected by the end of May, according to village officials. Six proposals have been submitted from developers for a senior housing development planned for the Pine Ridge development, according to Jack Knight, management analyst for the village. Now a selection committee of two plan commissioners and two village board trustees will review and identify a "short list of qualified developers" to share with the village board. The committee will conduct interviews and/or site visits and then make a final recommendation to the village board. The village purchased 3.4 acres of the Pine Ridge apartment complex in Jan. 2011 with the intention of turning the property into senior housing.